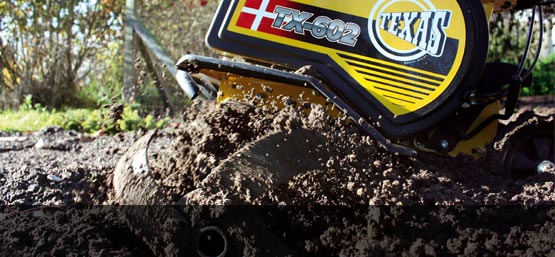 Tiller / Cultivator
Texas - a Danish company
Texas A/S was founded in 1960 by Mr. Andreas Petersen and has throughout the years developed a strong production of tillers and sweepers. We have aimed at making total solutions for the garden, job and leisure, resulting in a wide range of quality products. Apart from the self-manufactured tillers and sweepers, Texas today offers a complete line of log splitters, high pressure cleaners, ATVs, lawn mowers, lawn tractors, trimmers etc.
Furthermore we have recently introduced the Texas Power Line concept introducing product lines of generators, water pumps and engines. The Texas product lines are distributed through a net of distributors all over Europe.
In addition to the above we also sell products to major well-esteemed companies through private brands.
Texas A/S

Knullen 22

DK-5260 Odense S

Denmark

Phone: + 45 63 95 55 55

Email: export@texas.dk

Distributor login

Navigation

Company

Texas is a manufacturer of garden machines. Development and production of tillers from our location in Odense, Denmark. Texas is a world wide company with distributors in many countries.